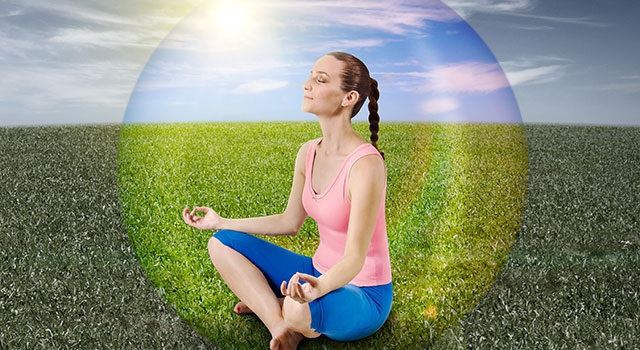 The positive energetic aurashield is an energy device that encapsulates the body and the aura, similar to a protective Forcefield.
What is the Purpose of an Aurashield?
The purpose of this spiritual armour is to maintain a high vibration within the aurashield, around the body and energy system and to repel any lower vibration energies. This is particularly useful when working as an energy healer or for those awakening spiritually, in order to maintain positive frequencies and remain immune to lower energies that might otherwise interfere with the energy field.
It is a very effective psychic protection device but must be activated daily to maintain its integrity and power. Using the aurashield doesn't mean that you are isolated from all energy frequencies, just the lower ones. You will still give and receive positive loving vibrations through the shield.
How to Activate the Aurashield
To activate the positive energetic aurashield, relax in meditation preparing the body and energy system for the installation of the aurashield by becoming still, peaceful and relaxing the muscles. After ten or twenty minutes of meditation, ask for the positive energetic aurashield to be placed in and around your system. If you are drawn to the angelic energies, ask now for the angels of light to assist with the activation. Visualise an invisible sphere of energy with the outermost side resting two or three foot away from the physical body, in every direction. See radiant light rays within this sphere, similar to sunlight and feel the positive energies that they hold. Imagine yourself walking along a golden path of light within your positive energetic aurashield. Outside of the sphere however, it is dull and raining but the rain doesn't seem to touch the aurashield surrounding you, as it is repelled before it can come close to it. Feel yourself being aware of the rain and dull weather around you but not feeling as if you are immersed in it. Instead, you are sheltered in the protective atmosphere of your positive energetic aurashield.
If you feel the energy or effectiveness of the aurashield wearing off during the day, ask the angels to help to stabilise and reinforce the shield. Feel it strengthening and intact all around you. You could also use a trigger word to reactivate the protective shield during the day such as "armour on", "energise" or "empower" or another word that you can relate to. State the word in your head or out loud and feel the aurashield around you.
Practice this daily and you will notice a positive affect on your mood, outlook, relationships and even in what you attract to you and manifest in your life.
I hope you enjoyed this post. If you'd like to go deeper into your spiritual practice, so you can manifest the life you desire, my members group the Fiercely Spiritual Family could be the very thing you're looking for. Find out more here.